Best Chem Dry in Mesa Arizona
SUNDAY, MAY 26, 2019
When looking for the right carpet, tile, or upholstery cleaning service there are many factors that should be included in your search. You want someone reliable and trust worthy to be in your home and around your family and personal items. You need a company who is upfront and honest with you about what they offer and won't try to pull a switch on you upon showing up. From getting a quote to booking to the time of the appointment to the finished result, you will always want a company like Chem Dry. Chem Dry has 5 main points on why you should let us service your home.
GREEN CARPET CLEANING
One of the best things about this company is the fact that they are green certified. There are no harsh chemicals in the cleaning. Your home will not smell of chemicals after the cleaning has been finished. Our cleaning is perfect for chemical sensitivities and safe to be applied to places where children and pets will be around. The sanitizer offered with each cleaning is successful in removing bacteria, allergens, and viruses. The Natural is the type of solution we use. It removes 98% of common household allergens and 89%of airborne bacteria.
GREAT REVIEWS
Everyone has experienced bad quality jobs. The worse the job is, the more likely a person is to post a bad review online. When you book with an establishment, especially if it is something that you want done right the first time, you will generally look up reviews on the place. Now not everyone can be pleased, but with us we do our best to satisfy the customer. That is why we have such great reviews at Sunrise Chem Dry. Our quality calls the day after give us a chance to see how we are doing, what we could do better, and provide a second cleaning if a customer was unhappy the first time around. We always encourage a call back, so we can make your home be the best cleaned. Our technicians are sure to give every home a pre-inspection before cleaning. Some factors that can effect the end results would be if there was any heavy soiling and can depend on when the last time it was cleaned. Our technicians will always be upfront at the time of the pre-inspection and let you know the likelihood that we can take care of any and all concerns you may have.
SINCE 1982
Since Chem Dry was founded in 1982 the company has come a long way. Years of experience has provided the company a chance to grow and improve their methods. Instead of using a wand like most companies, we use a rotary system. This equipment is able to apply 50 pounds of pressure without making the technicians tired and agitated throughout the process. With the wand, one would have to apply their own pressure. After a few rooms, it does get tiring so they may stop applying the pressure needed. Pressure is important because it needs to cause enough agitation in the carpets to kick up all the dirt from inside the carpet fibers. Our cleaning process applies the 5 key elements to create the best cleaning. With the proper amount of water, agitation, time ,chemicals, and heat Chem Dry has been able to perfect the right combination over the years. 
SERVICES OFFERED
When cleaning your home, you generally want to do it all at once to get it over with and not have to book with multiple companies. Since Chem Dry has many services you can get your home cleaned all in one appointment. We offer fabric and leather upholstery cleaning. We can clean most carpet fibers. And we offer tile cleaning, grout cleaning/coloring and tile sealant. With each cleaning, we offer sanitizer to kill bacteria and germs and protectant to ensure a longer lasting cleaning. Protectant and sanitizer can be used on any upholstery or carpet. We also offer carpet repair, stretching, and patching. Our Pet Urine Removal Treatment is one of our best offers. Not only does it help in pet cases but also human related matters. And we always do an onsite blacklight evaluation with each pre-inspection.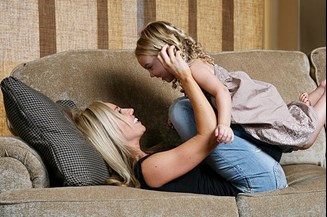 FAST DRY TIMES
One of the most important questions a customer will ask is "how long will it take to dry?" The importance of a fast dry time is to lessen the likelihood that the carpet will create a perfect breeding ground for mold and bacteria. Our difference in dry times is what makes Chem Dry different from steam cleaners. A steam cleaning method applies 70%-80% more water than Chem Dry. This means that it takes a longer period of time to dry. It is estimated that steam cleanings dry within 4-6 hours while Chem Dry dries within 1-2 hours. All part of our drier way of cleaning.
CHOOSE CHEM DRY FOR A DRIER, CLEANER, HEALTHIER HOME.
BACK TO BLOGS