5 WAYS TO KEEP YOUR DINING ROOM CHAIRS CLEAN
WEDNESDAY, MAY 15, 2019
When having company over for dinner or just eating breakfast with the family, the dining room chairs are the first thing you see before sitting down for your meal. There is always a good possibility that before the meal is over somebody is going to spill either a drink or some food on those lovely dining room chairs. Here are 5 ways to keep your chairs clean so you don't have to settle with the stains that have been there for years and not knowing whether or not you've added a new one to the collection.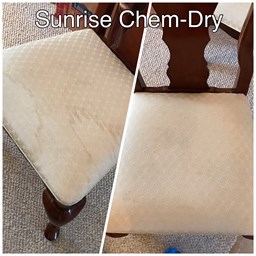 REPLACE WITH WOODEN CHAIRS
In doing so, you never have to worry about stained fabric ever again. You can always buy chair cushions and wash them every so often to take care of any spots that come up. Wood furniture is very durable and can withstand much wear and tear. However, if comfortability and cushions are what you prefer above all else, read on to find a tip that may work for you.
APPLY PLASTIC COVERING OVER THE SEAT
This tip works if it is just the seat you are trying to protect. For example, some wooden and even metal chairs have the backing of either the wood or metal but a cushioned fabric seat. If you notice, your dining room chairs have screws underneath that help take the chair apart. If you buy plastic sheeting, you can take apart the chair and staple the plastic underneath the seat. Plastic sheeting ensures that the design of the fabric is maintained and repels any spills. It has a guaranteed faster cleaning and no hassle. However, if the plastic is not a good feel for you and your family, read on!
BUY ENTIRE DINING ROOM CHAIR COVERS
Dining room chair covers come in comfortable fabrics in all colors. These cover the whole chair. It protects the chair from spills and messes. And when ready to clean, you just throw it in the wash. Since it does cover the entire chair, you may prefer something that still allows you to show off the matching dining set. When replacing chairs, applying plastic sheeting, or buying covers for the chairs isn't an appealing option; maybe try our next two solutions!
APPLY A PROTECTANT
Applying protectant works best on new furniture or recently cleaned furniture. Protectants help to repel spills and allows you to clean it up without the worry of stains. You can practically use it on any kind of material. The most recommended product would be the Scotchgard Fabric and Upholstery Protector. In 6 easy steps you can protect your dining room chairs. Don't forget to check for any discoloration of the fabric in a small inconspicuous area first. Also, after each cleaning be sure to reapply the protectant. If your chairs are in need of a good deep cleaning before applying the protectant try the next option.
The preferred method of cleaning any upholstery would be using a company that doesn't use very much water in their cleaning methods. The less water used means that you have a less chance of causing a ripple effect in your dining room chair cushions. Chem Dry franchises are the most recommended for this preferred method of cleaning. They use a green certified solution meaning that it is kid friendly and pet friendly. And of course, you don't have to wait for long drying times because of the less water percentage than a regular steam cleaner. These franchises also offer a protectant with each cleaning to ensure a longer lasting clean. So not only do you have your chairs cleaned for you but you also have them protected for you and your family from damaging spills and messes.
MAY YOUR HOME BE REMEMBERED FOR THE COMFORTABLE AND CLEAN DINING CHAIRS
BACK TO BLOGS